Dear anyone who has emailed me recently,
I'm sorry I haven't gotten back to you. For some reason, my inbox has seen a torrential avalanche of activity lately. (And a mixed metaphor, apparently.) I want to respond to you, particularly to anyone who's struggling and needed to ask a question. And I will get back to you eventually. Thanks for waiting on me.
I've also heard that lots of people's emails are bouncing, and I'm going to figure out what's going on. If this happens, comments are pretty reliable way of reaching me, and I'm also on Twitter as @fatnutritionist, so you can try reaching me there.
I've also noticed my site is loading veeeeery sloooooowly. I'm working on it.
In the meantime, I hope you will accept this photographic evidence of me trying to figure stuff out: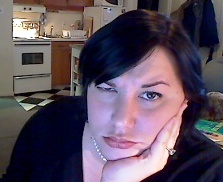 Sincerely,
Michelle